What is the meaning of the name Grace spiritually?
In this post, I will discuss what does Grace mean spiritually. I use Name Essence Reading to find out the meaning of the name Grace.
What does Grace mean spiritually with Name Essence Reading?
When I access to the sound of the name Grace, I got a vision and draw as below.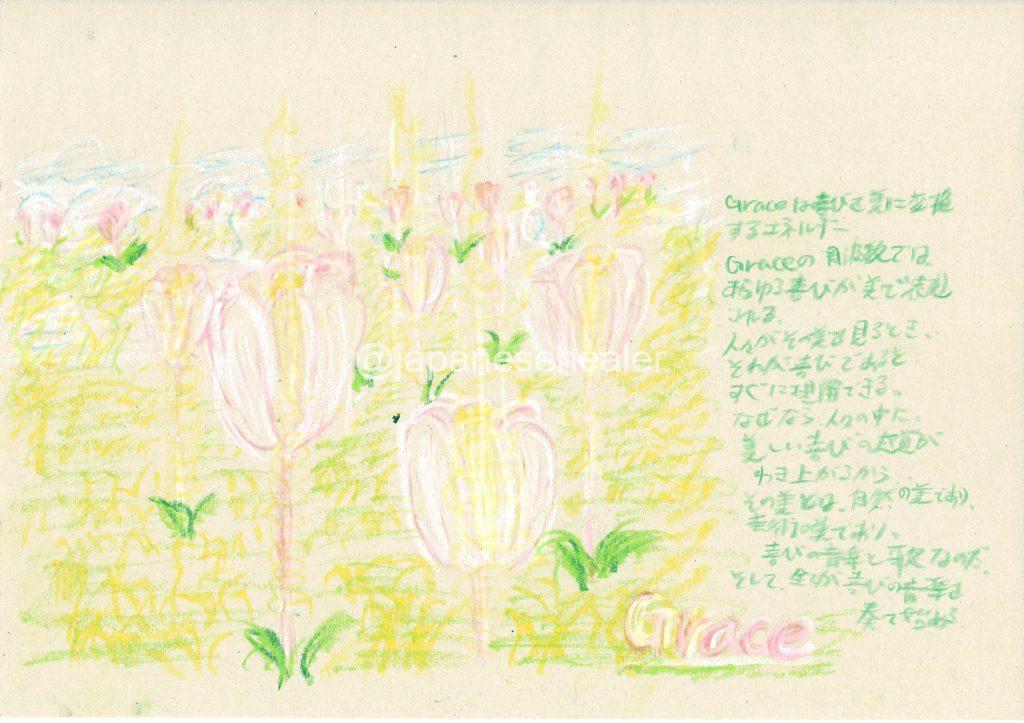 I asked the drawing what does the name Grace mean.
Then, I received the following message from the drawing in Japanese about the meaning of the name Grace.
Graceは喜びを美に変換するエネルギー。

Graceの周波数では、あらゆる喜びが美で表現される。

人々がその美を見るとき、それが喜びであると、すぐに理解できる。

なぜなら、人々の中に美しい喜びの感覚が湧き上がるから。

その美とは、自然の美であり、芸術の美であり、喜びの音楽と歌である。

そして、すべてが喜びの音楽を奏で始める。
And, I translated into English.
Grace is the energy that convert joy into beauty.

In the frequency of Grace, any kind of joy is expressed with beauty.

When people see the beauty, they immediately understand it as joy.

Because the feeling of beautiful joy rises in them.

The beauty is beauty of nature and art and music and a song of joy.

Everything becomes a symphony of joy.
I made my drawing process and the message into a 1-minute video. Please watch.
If you don't want to miss new reading results of Name Essence Reading by Koichi, don't forget to subscribe to Koichi's youtube channel!

What is Name Essence Reading?
I wrote about Name Essence Reading on the following page. Your full name has another vibration. You can make an appointment with Koichi on the following page for your full name reading.
What do other online sources say about the name Grace?
---