What is the name Alyssa, meaning by Name Vibration?
What is the name Alyssa? I draw Name Vibration Art to convert the sound into the vision and receive the message what is the meaning of the name Alyssa. 
All names have different sounds. Sound is vibration. The vibration can be converted to vision in a meditative state with a joyful and peaceful mind. The vision has a message that tells what is the pure quality of your name. In this post, I draw the vision of the name Alyssa and introduce the message from the name Alyssa.
What does Alyssa mean spiritually with Name Vibration Reading?
When I access to the sound of the name Alyssa, I got a vision and draw as below.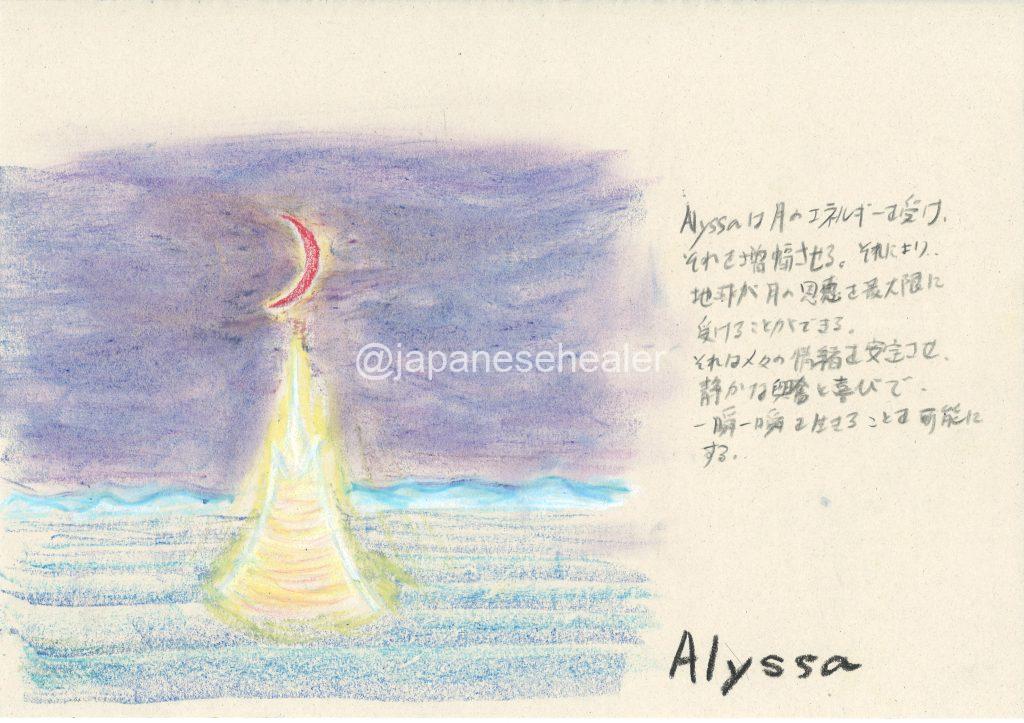 I asked the drawing what does the name Alyssa mean. Then, I received the following message from the drawing in Japanese about the meaning of the name Alyssa.
Alyssaは月のエネルギーを受け、それを増幅させる。それにより、地球が月の恩恵を最大限に受けることができる。それは、人々の情緒を安定させ、静かな興奮と喜びで、一瞬一瞬を生きることを可能にする。
And, I translated into English.
Alyssa receives moon energy and amplifies it. Then, the earth embraces the maximum benefit of the moon. It stabilizes people's emotions and allows people to live every moment with calm excitement and joy.
I made my drawing process and the message into a 1-minute video. Please watch.
If you don't want to miss new reading results of Name Vibration Reading by Koichi, don't forget to subscribe to Koichi's youtube channel!

What is Name Vibration Reading?
I wrote about Name Vibration Reading on the following page. Your full name has another vibration. You can make an appointment with Koichi on the following page for your full name reading.
https://japanese-healer.com/services/#toc5
What do other online sources say about the name Alyssa?
---