What is the name Martha, meaning by Name Vibration?
What is the name Martha? Name Vibration of Martha is converted into a vision, and into a message. It tells you what is the meaning of the name Martha.
All names have different sounds. Sound is vibration. The vibration can be converted to vision in a meditative state with a joyful and peaceful mind. The vision has a message that tells what is the pure quality of your name. In this post, I draw the vision of the name Martha and introduce the message from the name Martha.
What does Martha mean spiritually with Name Vibration Reading?
When I access to the sound of the name Martha, I got a vision and draw as below.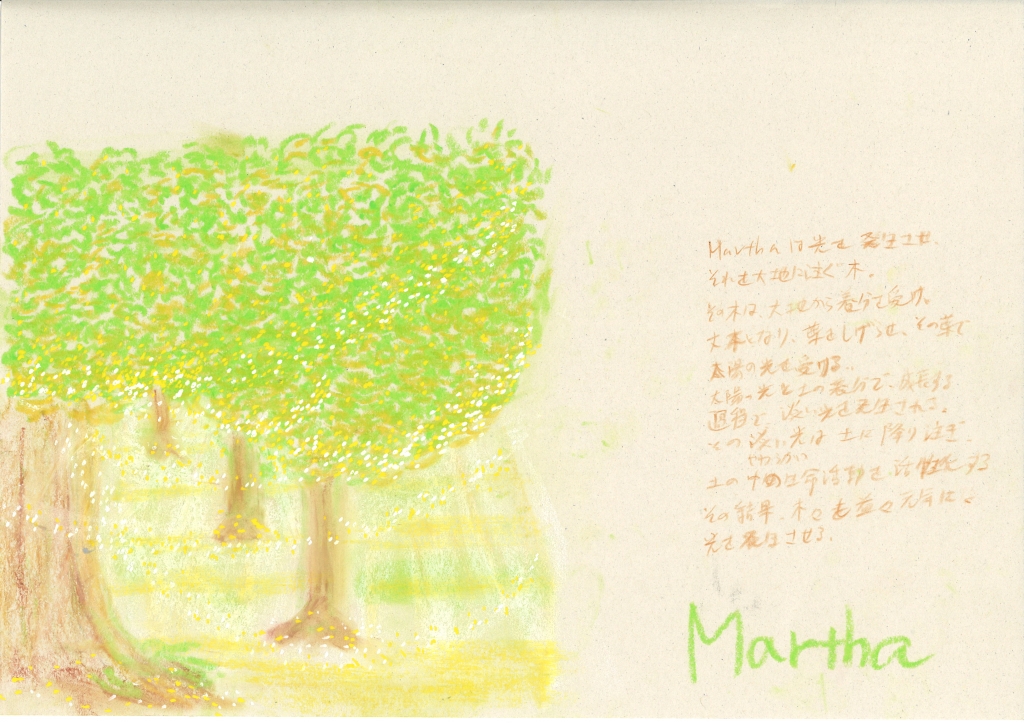 I asked the drawing what does the name Martha mean. Then, I received the following message from the drawing in Japanese about the meaning of the name Martha.
"Marthaは光を発生させ、それを大地に注ぐ大木。その木は、大地から養分を受け、葉を茂らせ、葉から太陽の光を受け、大木となる。太陽の光と土の養分で、大木へと成長し続ける過程で、Marthaの木は淡く柔らかい光を発生させる。その光は土へと降り注ぎ、土の中の生命活動を活性化させる。土の生命活動の活性化により、木へと送られる養分が益々エネルギーを持ち、木の生命活動も活発になる。そして、益々光を発生させ、土を元気にする。"
And, I translated into English.
"Martha is a tree that generates light and pour the light to the soil below the tree. The tree recieves nutrients from the soil, grow leaves, recieves sun light through leaves, and grow to a big tree. In the growing process, the tree generates soft light. The lght goes to soil and it activates life's activity. By being activated life's activity in soil, nutrition from soil to tree have more energy, which makes tree's life activity more active. Therefore, it generates more light and make soil more energetic. "
What is Name Vibration Reading?
I wrote about Name Vibration Reading on the following page. Your full name has another vibration. You can make an appointment with Koichi on the following page for your full name reading.
https://japanese-healer.com/services/#toc5
What do other online sources say about the name Martha?
---