What is the name Jennifer, meaning by Name Vibration?
What is the name Jennifer? Name Vibration of Jennifer is converted into a vision, and into a message. It tells you what is the meaning of the name Jennifer.
All names have different sounds. Sound is vibration. The vibration can be converted to vision in a meditative state with a joyful and peaceful mind. The vision has a message that tells what is the pure quality of your name. In this post, I draw the vision of the name Jennifer and introduce the message from the name Jennifer.
What does Jennifer mean spiritually with Name Vibration Reading?
When I access to the sound of the name Jennifer, I got a vision and draw as below.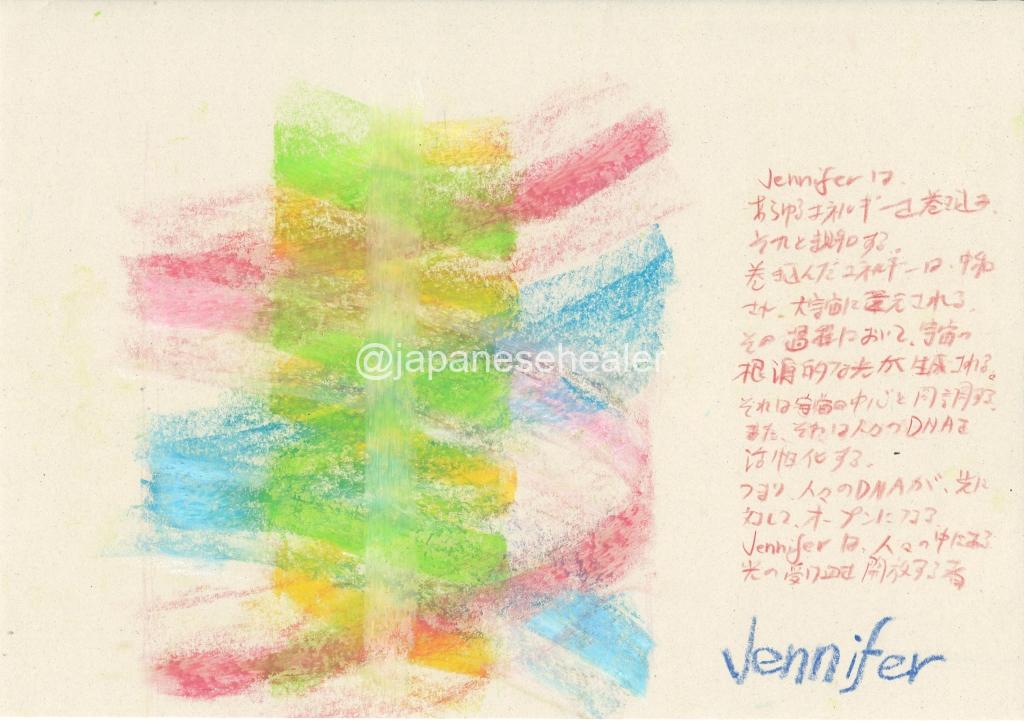 I asked the drawing what does the name Jennifer mean. Then, I received the following message from the drawing in Japanese about the meaning of the name Jennifer.
"Jenniferはあらゆるエネルギーを巻き込み、それと調和する。巻き込んだエネルギーは中和され、大宇宙に還元される。その過程において、宇宙の根源と同様の光が生成される。その光は、宇宙の中心と同調する。また、それは人々のDNAを活性化する。つまり、人々のDNAが光の情報・シグナルに対して、開く。Jenniferは、人々の中にある光の受容体を開く者。"
And, I translated into English.
"Jennifer makes any kinds of energies involved into her and hermonize with them. Involved energy is neutralized and returns to the universe. On the process, the light which is same as the source of the universe is produced. The light synchlonizes with the center of the universe. The light activates DNA in people. Thus, people's DNA opens to information of light. Jennifer is the one who opens receptors of light in people."
What is Name Vibration Reading?
I wrote about Name Vibration Reading on the following page. Your full name has another vibration. You can make an appointment with Koichi on the following page for your full name reading.
https://japanese-healer.com/services/#toc5
What do other online sources say about the name Jennifer?
---